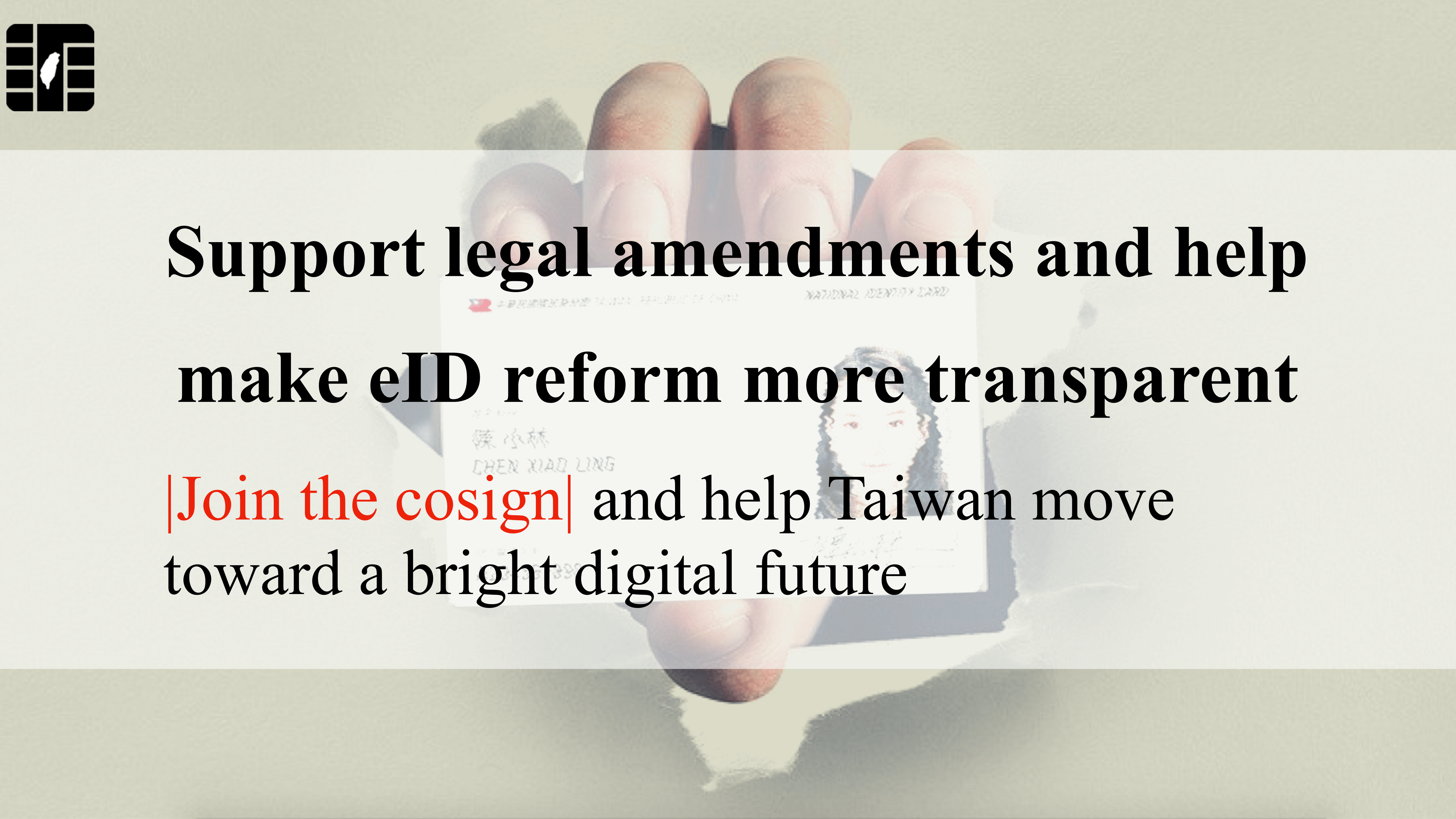 Cosignatory - amend the law and make eID reform more transparent
Openness, transparency and legal redesigns are crucial in our new era of techno-enabled governance. Have us help our country safeguard information security and procedural justice, and start our stride into the era of the digital economy on the right foot.
The era of the digital economy is coming. Over the last few years, digital ID cards (eID cards) have been introduced in a number of European countries. Countries such as Germany and Estonia implemented such changes only after first improving and revising laws and making the source code of their systems open source. The EU has recently implemented more stringent data protection policies through GDPR, ensuring that privacy protections can exist alongside digital service provision. Each new digital service that is connected together adds additional risk, and now more cumbersome security checks are required for individuals to protect their sensitive data.
Taiwan's current National ID cards are not digital. Taiwan's health insurance cards use an IC system and, together with the digital citizen certificate, are used together to help facilitate digital service provision. If the government links up ID cards with the digital citizen certificate and thus connects one's tax records, residential address and other digital traces through the proposed eID card system, and in addition, supports a wireless card reading system (RFID), regardless of how many passwords there are, the threat of a breach will become much more real.
In its preparation for eID cards, the government has not amended any laws and has not released any detailed proposals, but it is still spending 4.4 billion NTD (approx 158 million USD; 133 million EUR) to implement a full transfer to digital ID cards, and it had originally planned to implement such a reform by October 2020. This date was pushed back to January 2021, and there have been no updates since. We are all anxiously awaiting the government's next move, and trying to make sure our concerns are heard.
OCF has released a series of articles examining how Taiwan's policy proposals compare to its Asian neighbours. Read more about Taiwan's policy here, Japan and Malaysia's policy here, and South Korea and Singapore's policy here. You can learn more about our main requests, concerns, and our progress in 2020 below.
Our four main requests
Our five main concerns
Our current progress & the government's responsens