2022 Ranking Digital Rights (RDR) Taiwan
From Knowledge to Accountability
In the digital era, the promotion of human rights and data-based services and products are intimately connected. OCF and our international partners are using knowledge as power, and using international standards to evaluate the standards related to free-speech management and personal information protection used by Taiwanese corporations.
2022 Corporate Accountability Report
Project Background
In highly digitized societies, not only are the connections between our offline and online lives increasingly dense, the amount of time we spend living online is also increasing. Whether our rights are protected online is highly dependent on the type of digital services and standards set by big corporations. As private entities, many corporations have the ability to control large social media platforms and communication services. It could be said that they have become the protectors of the public sphere in the digital era, able to decide user's access to freedom of information and speech. In addition, such corporations have access to large amounts of digital trace data on users and can thus make large profit through utilizing and sharing this large scale data. Their influence on our personal privacy can thus not be understated.
In recent years, public scandals such as Cambridge Analytica and their inappropriate use of personal information have made both governments and consumers increasingly aware of the responsibility of corporations to protect our personal information and freedoms of speech. Big digital players like Google and Facebook have already been pressured into committing to improve their internal governance, to make their policies more transparent, and to ensure that other corporations also protect human rights. Many countries in Europe and the Americas have continued to produce new legislation relating to this issue, such as America's proposed Federal Online Privacy Act or the European Union's 2018 General Data Protection Regulation, GDPR. These laws all increase the responsibility of corporations to protect digital human rights. For example, by making them formally evaluate their influence over personal data protection, and requiring them to strengthen their systems for reporting personal data breaches. GDPR extended such responsibilities to all private foreign companies providing services and products to EU citizens. In Taiwan, in addition to the frequent reports of how digital services have eroded our personal privacy, in recent years, more attention has been paid to the potential threat that Chinese investments in corporations pose to the protection of our freedom of speech. The "digital human rights'' conference held in January 2022 that was co-hosted by the National Human Rights Council, Taiwan (國家人權委員會) and the Digital Trade and Data Protection Assocation (中華民國數位金融交易暨資料保護協會) further highlighted the serious challenge that private industry poses to our human rights. Because of this, the question of how to protect human rights in the digital age is a key concern for both consumers and the government alike.
OCF's core value is to promote open tech, and by doing so, protect human rights in the digital age and ensure internet freedom. OCF's existing projects already include many efforts to promote open source innovation to a larger public, and to promote open data to the government. When dealing with private corporations, what action should we take? We believe that working with our global partners and private corporations, we should work to promote transparency as to how digital platforms and services are protecting our human rights and promote a positive environment of competition and accountability. Due to a lack of information on how corporations are protecting our rights in Taiwan, OCF has started to use an international standard to produce new data. We will use this data as part of our future activism, and also as a way to connect Taiwan to the rest of the world, making sure we take our seat at the table of digital human rights discussion.
Project Description
Ranking Digital Rights ,RDR is an international evaluation tool developed by the American public think tank New America Foundation. They want to create a standardized system to measure the extent to which corporations in every country are protecting digital human rights during their operation and service provision to consumers. There are already participants in the RDR system from many places where transnational corporations are operating, including locations in the Americas, Africa, Europe and Asia. Many participating corporations participate every year and try each time to achieve a higher ranking as a way to prove their dedication to protecting digital human rights. The types of corporations included are divided into the two groups: (1) Digital platforms and (2) Telecommunications companies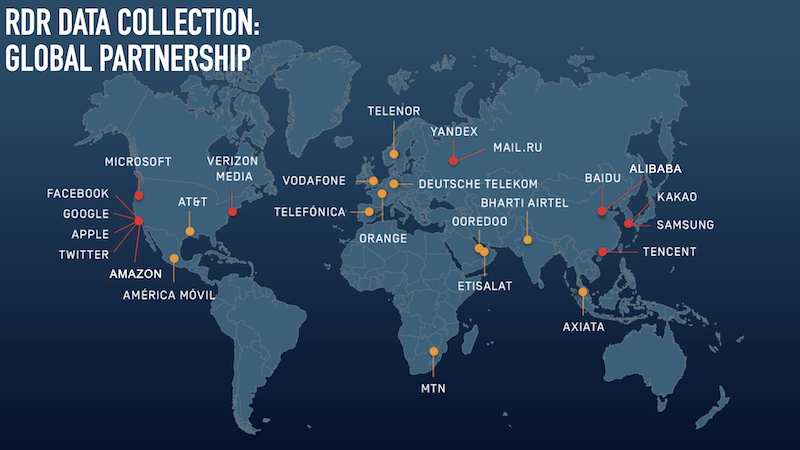 In 2022, RDR hopes to expand participation among corporations in East Asia. RDR has begun collaborating with three NGOs concerned with digital development: Digital Asia Hub, OCF and Open Net Korea. They are now looking for local corporations in Malaysia, Taiwan and South Korea to evaluate using the RDR system. The evaluation includes three main critera of digital human rights: governance, privacy, and freedom of speech. The evaluation focuses on reviewing the corporations' work processes and internal policy documents to assess whether they include substantial consideration of digital human rights. OCF is mainly involved in the localization of RDR's research methods and in collaborating with Taiwanese corporations to produce a standardized evaluation system for corporations' protection of human rights. Due to the uniqueness of Taiwan's geo-political status, being both a democratic state deeply ingrained within international trade networks whilst also being at constract threat of economic and political coercion by China, OCF and other Taiwanese civil society groups, experts, corporations are working together to consider how to incorporate considerations of Taiwan's unique position into the standardized international methodology created by RDR to ensure we produce a meaningful evaluation of the digital human rights records of Taiwanese corporations.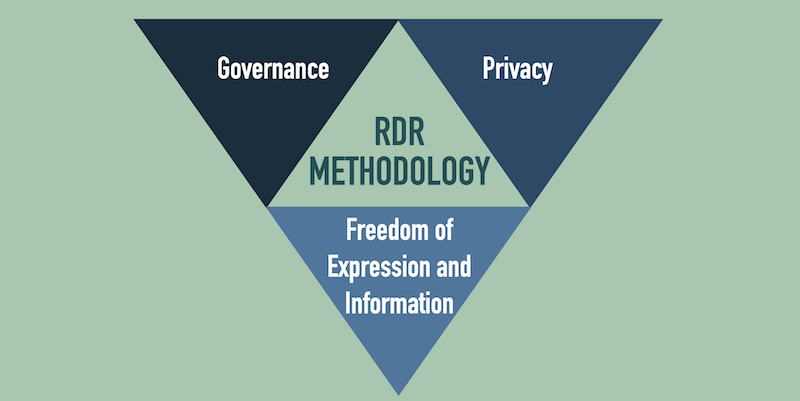 Plan of Implementation
This project is split into five stages. OCF will localize RDR evaluation tools and consider how to address Taiwan's unique political environment. We will work with NGO's and share our experience to collaboratively produce a research plan and select Taiwanese corporations with significant influence over digital human rights to evaluate. We will collaborate with the corporations and ask them to provide their policy documents, which OCF will then use these documents and RDR's standards to produce a digital human rights report and list of suggestions for these corporations. We will also report our findings to our NGO partners and the government, thus planting a firm base for the development of digital human rights in Taiwan.

Expected Results
We hope that by collecting and releasing quantitative data on corporations digital human rights practices, the government, consumers and civil society groups can all better understand the current status of corporate human rights protections and use this information to inform policy decisions. The government will be able to better understand the corporate landscape and establish appropriate norms for digital human rights protections. Consumers will be able to more consciously choose the corporations who best protect their rights, and civil society groups will be able to use this information to engage in all forms of advocacy and activism. At the same time, the corporations themselves will be able to use the results of the evaluation to develop a business model that better protects digital human rights, which will therefore help increase accountability across our digital landscape.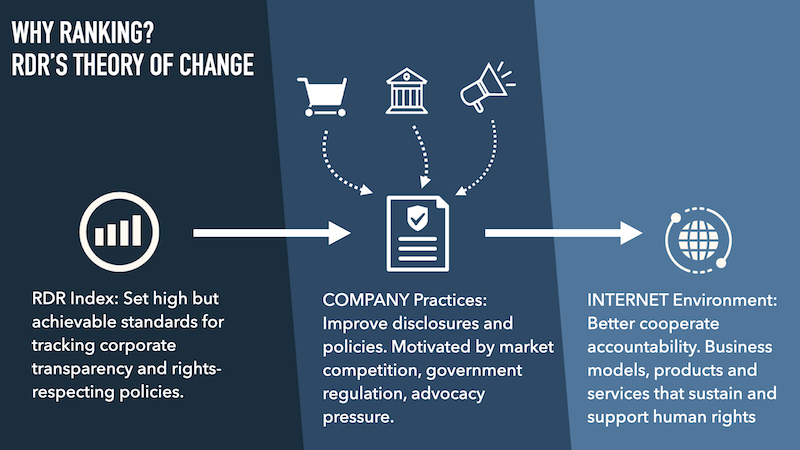 We are Recruiting Corporations in Taiwan!
OCF is currently recruiting corporate partners to join in with RDR. Corporate partners not only receive a report on their digital human rights records, but will also be placed on a ranking alongside globally well known business, thus boosting their international visibility. In addition, RDR's report can be used by corporations to produce their own corporate social responsibility reports or corporate sustainable development reports.
If you're interested in this project, please get in contact with us!
Events